New England Institute of Technology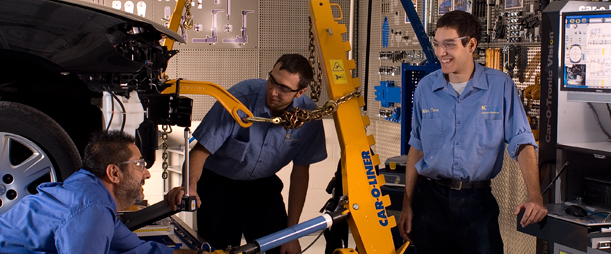 AS - Graphics, Multimedia and Web Design

Starting with the core skills of digital photography, design, and computer graphics, students receive hands-on, project-oriented instruction in web design, interactive multimedia, and desktop publishing. A wide variety of 2D and 3D animation software is also integrated into the program. Students also learn how to most effectively use digital audio and video clips for interactive multimedia presentations including DVD, and web delivery. After completing the first three core quarters of the combined track, students will choose to finish their last
three quarters with a specialized track in either Multimedia or Graphics Design. Both tracks include extensive web design training.
Multimedia students will further their core curriculum with advanced interactive design, web audio & video, 3-D animation, and desktop publishing. Students will create projects on their own or in teams with each student assuming responsibility for the production process. Student projects will be deployed via DVD, or web server. A digital portfolio of each student's projects will be accumulated throughout the entire program. Off-campus cooperative work experience may also be gained during the sixth quarter.
Students will graduate with an Associate in Science Degree in Graphics, Multimedia and Web Design with a concentration in Multimedia. Upon completion of the Associate in Science Degree in Graphics, Multimedia and Web Design, students in the Multimedia track will have the opportunity to matriculate to the Bachelor of Science Degree in Digital Recording Arts (DRA).
Questions? Fill out the form below to get answers.
Consumer Information/Disclosures visit http://www.neit.edu/About-Us/Public-Disclosure.